Warning
The current documentation is still heavily Work In Progress, we're constantly updating it with new content, so don't forget to check it out later aswell!
Getting Started¶
Installing EmberGen¶
Download¶
Go to https://jangafx.com/software/embergen/download/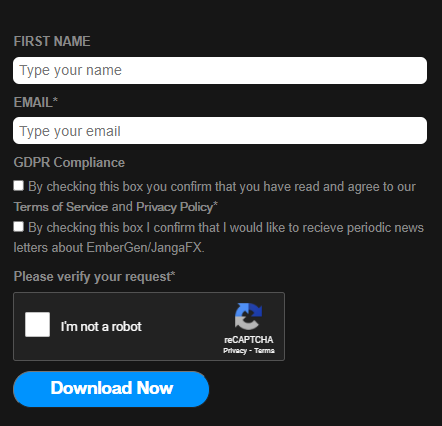 There you'll be greeted by a form!
You need to fill this out to download the software, even if you're not interested in a trial period.

Please use an e-mail address you have access to.

The first checkbox to agree to our Terms of Service and Privacy Policy is mandatory. The second one about our newsletters is optional.

We don't serve droids, so you need to check the captcha box as well.

After filling out the form you can click the blue download button.
Then you'll be redirected to another web page where you can click a green download button to actually download the software!
Now you have a downloaded folder that needs to be unzipped.

You can do this with: Extract All… or by using a program like 7zip.

Run the .exe file in the extracted folder.

This will launch the installer where you need to click next a few times.

You need to accept the agreement to continue.

If you don't want a desktop shortcut for Embergen don't forget to uncheck that on the second page of the installer.

If you checked Launch Embergen the software will boot right away!

Otherwise, you'll have to use the desktop shortcut.

If you didn't make a desktop shortcut you can find the .exe file in the Embergen folder directly on your C: drive.
Licensing¶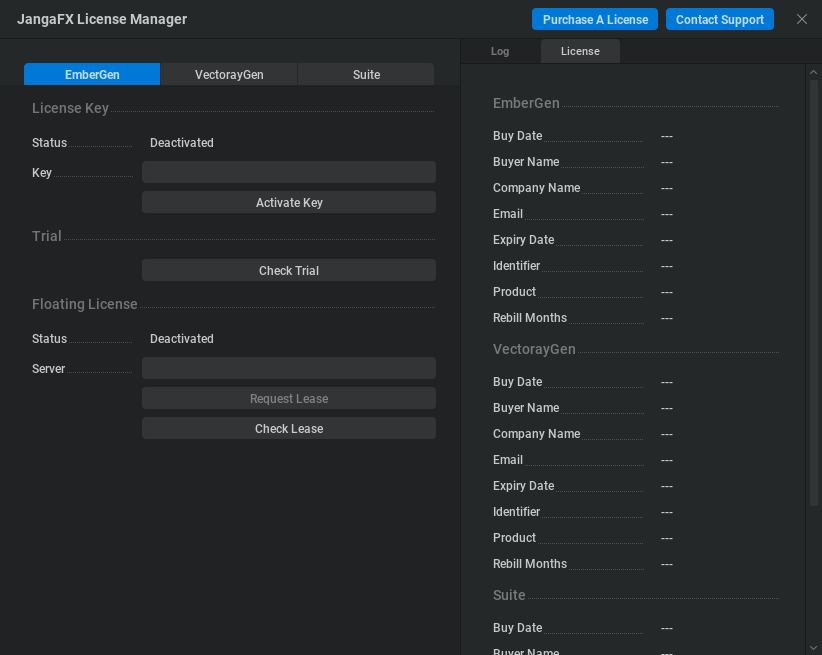 After installation is complete, run EmberGen and in the About menu, click license manager to launch it.

Within this license manager, enter your license key in the 'Key' text box.

Then press the Activate Key button. The status text will change from 'deactivated' to 'activated' if the license was activated successfully.

If any errors occur they will appear in yellow on the right. If you cannot get your key to activate, email us at support@jangafx.com using the blue Contact Support button in the top right corner with a screenshot of the errors.
If you don't have a license key you can purchase one from our pricing page on our website. You can go there using the blue "Purchase A License" button!
Using Embergen¶
Welcome to Embergen!
In this section, you will learn the basics of our software to get started making amazing effects for your games or movies.